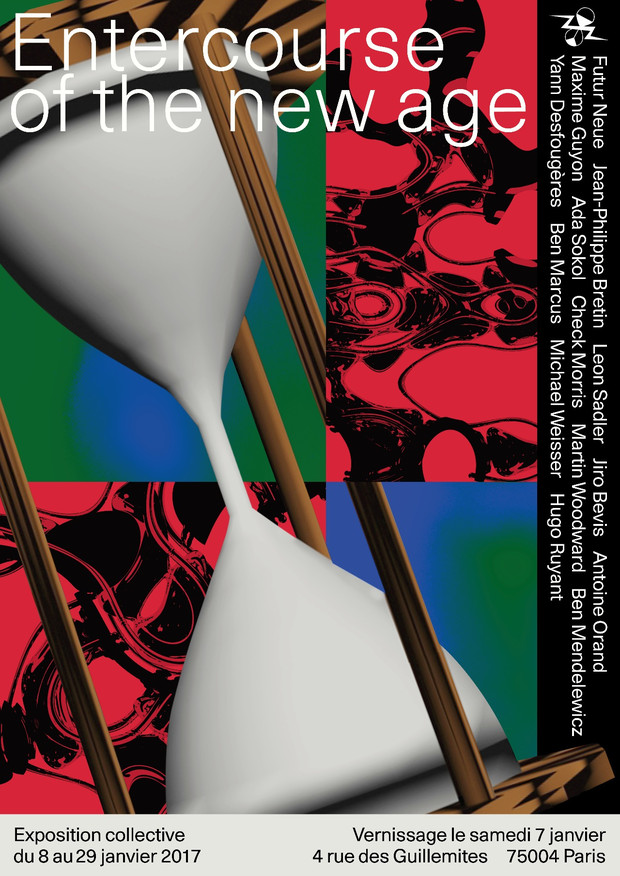 Main exhibition visual designed by Jean-Philippe Bretin
A quick glance at Boomkat or at any physical record store is enough to notice the importance that visuals acquired these days in the world of electronic music. To the point that today, an important and growing part of EPs have their own covers and specific disc labels. But during the 80's and early 90's, only rare LPs had this chance, while most of the production made of EP only got standardized labels and covers.


As many other amateurs, we drew with markers on these blank covers or made Jpegs for our iTunes libraries, but some of these records which became classics deserve better than these amateur works. Thus, we though of asking to illustrators, graphic designers, photographers, contemporary artists that we admire and whose visual universe would enrich the sonic universe of these records, to make up for this deficiency. It's as fans of electronic music and visual art lovers that we imagined this project. It echoes the trend of alternative posters of films and video games that developped on the web these last years. However, we do wanted to offer alternatives inspired by a pre-established visual language, but to create original, contemporary and never seen before visuals based on musical and written material (titles).


To this end, we have deliberately selected records whose authors never really benefited from remarquable or clearly identifiable iconography throughout their career. For this reason, the majority of them comes from the Chicago House scene from the 80s, beginning of the 90s which didn't develop an aesthtetic specific to the genre (a default very heterogeneus aesthetic at most), as opposed to the techno scene of Detroit where some labels (particularly UR and affiliated), developped a strong and consistent visual universe. We also chose a few records from other scenes. The idea was not to create covers as they could have been back in the days. Contrary to a large number of film posters from the fan-art scene, we were not planning to play on any kind of nostalgia – we would like to let contemporary artists appropriate and interpret these musics as of today, using their own style and techniques.
Armando - 151 - The Remixes (1992), Trax Records (TRAX 5016)
Blake Baxter - EP (1988), Incognito Records (IR 112688)
Gherkin Jerks - 1990 LP (1990), Gherkin Records (GKE1058)
Truth - EP (1992), Funky Groove Records (Funky 4)
Steve Poindexter - Work That Mutha Fucker (1989), Muzique Records (MR-001)
G Strings - The Land Of Dreams (1990), G Strings (GS 300)
Master C&J - When You Hold Me (1986), Trax Records (TX118)
Sleezy D. - I've Lost Control (1986), Trax Records (TX113)
dB featuring Bambi - I Have A Dream (1987), Underground (UN-121)
The Utopia - Project File 1 (1990) Nu Groove Records (NG-051)
Glenn Crocker - We-Have-Arrived (1992), Chicago Underground (CU-6903)
Tyree Featuring Chic - I Fear The Night (1986), Underground (UN-103)
Terrance McDonald - Mind Over Matter (1991), Saber Records (S 3010)
Marcus Mixx, Blood, Camero - Tits, Ass & Pussy EP (1991), Saber Records (S 3012)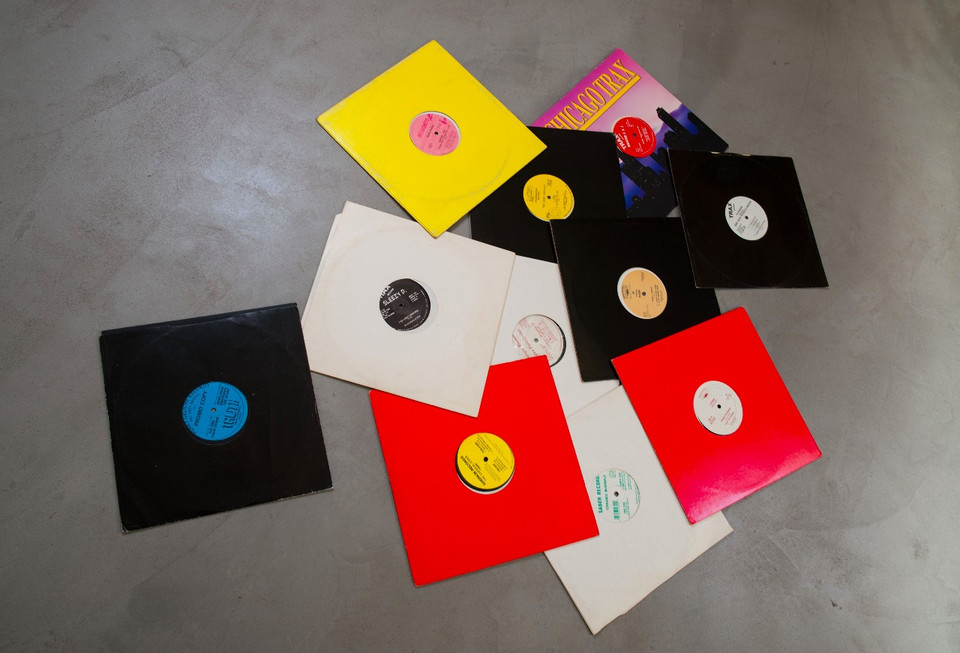 A large number of these records could be assimilated to an unofficial sub-genre of house music that we like to call "narrative house", for its strong evocative power. Because even if they didn't get covers, their titles (titles of the EPs or titles of the tracks they contain), but also their melodies, composition and sonic textures have the ability to give birth to a myriad of mental pictures illustrating as many fantasy stories in the listener's mind. These innovative records were made at a time where the future still seemed to carry big hopes and fears. Informatics and electronic were starting to invade homes and allowed people often devoid of musical training and money to compose the soundtrack of the future, authentic sonic utopias.

Through their innovative use of synths, drum machines and sequencers, all these musicians had a particular fascination for new technologies and foretold the rise of the machines (the track computer madness by Steve Pointdexter embodies this idea perfectly). A new era was starting, and these artists expressed it with messianic accents borrowed from the gospel spirituality in which they grew up. We Have Arrived by Glenn Crocker (Glenn Underground) or Free Yourself by Virgo echoes with enthusiasm this futuristic new age. Sometimes the future gets darker and the utopia turns into dystopia like in "Brave New World" from Blake Baxter, a direct reference to the work of Aldous Huxley.
Listening to "The Land of Dreams" by G-strings (which may refer to the novel of the same name written by James Blaylock), transports us into fantasy lands or extraterrestrial landscapes. "Spaced Out" and "Mind over Matter" by Terrance Mc Donald evokes altered states of conscioussness induced by musical trance or drugs. "Sexuality" by Blake Baxter, or "When You Hold" me by Master C&J illustrate the synthetic romances that occur in clubs, between two stromboscope flashes surrounded by artificial smoke.
The modernist aspirations of these records are not only revealed through their titles. They also appear in their often minimalistic compositions in terms of instrumentation, paired with their maximal aesthetic (grandiloquent melodies and sound effects) aiming at pop efficiency (on the dancefloor, or in an emotional / melodic point of view). The quite rudimentary means at the disposal of these artists, as well as the fact that they experimented production methods free of studtio normalization also give some kind of refreshing naïveté to these records.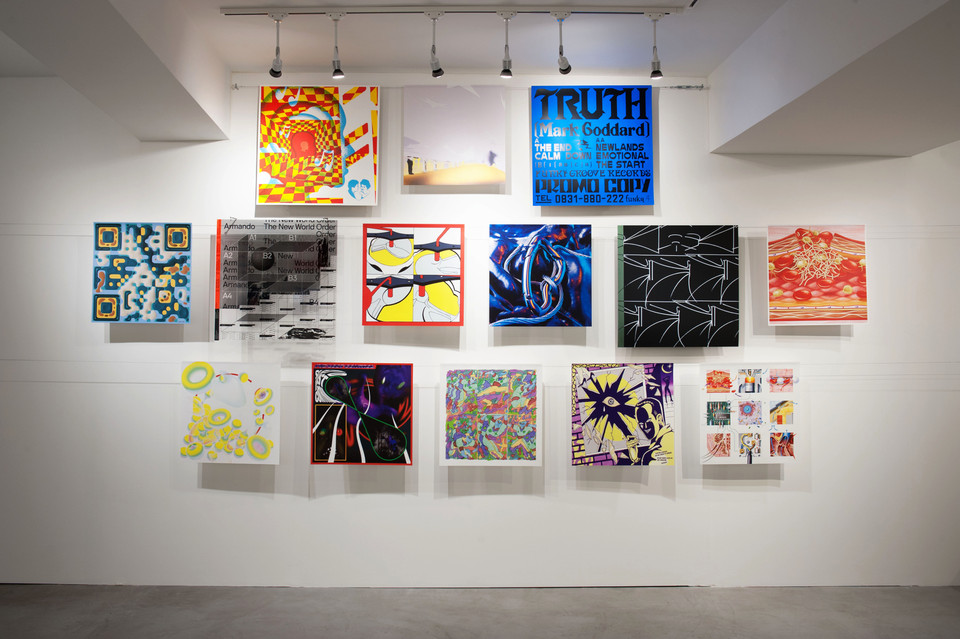 Poster Wall - Entercourse Of The New Age, Paris, January 2017
As it's an independent project we conceived and funded by ourselves we planned to print between 25 - 30 of each visual using serigraphy or HP Indigo and sell them during the exhibition and on the website to amortize the project.
For each cover, specifically created for this project by the artists using their particular techniques, two distinct objects have been printed:
A poster printed on fine art paper using screen printing (serigraphy) or digital offset press (HP Indigo).
A vinyl cover, which contains an original copy of the illustrated record, has been printed on digital offset press (HP Indigo) at 3 copies (not for sale)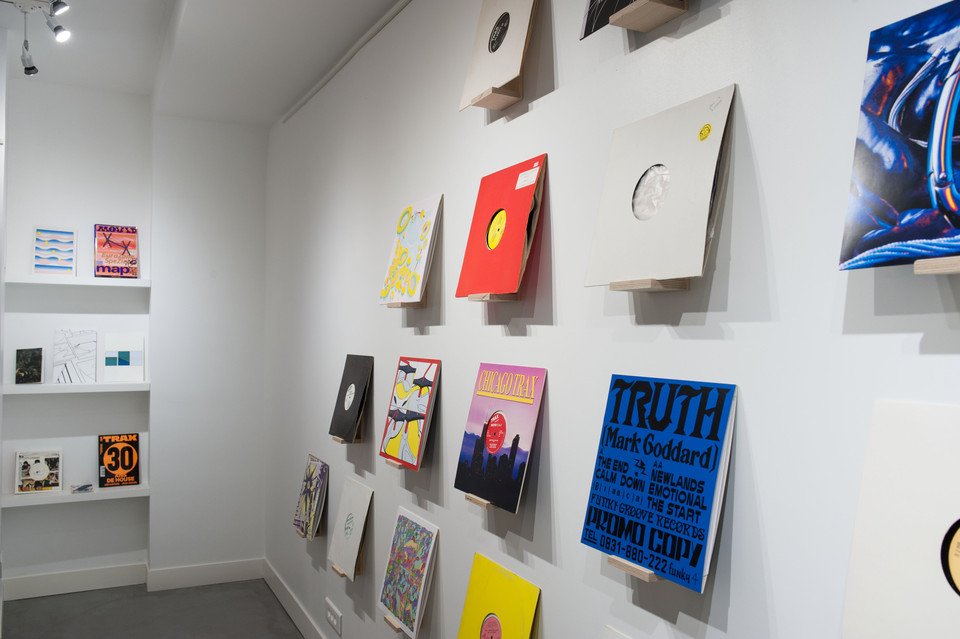 Cover Wall - Entercourse Of The New Age, Paris, January 2017
With the participation of:

Michael Weisser (GER), Jean-Phillippe Bretin (FR)
Futur Neue (CH), Leon Sadler (UK), Check Morris (FR),
Ben Marcus (U.S.A.), Jiro Bevis (UK), Maxime Guyon (CH),
Ada Sokol (POL), Yann Desfougères (FR), Antoine Orand (BEL)
Martin Woodward (UK), Ben Mendelewicz (U.S.A.), Hugo Ruyant (FR)